It is not known exactly when soap as such became popular amongst people, or when the need for cleanliness became a love, but the earliest writings about soap-like products have been found on ancient Babylonian clay tablet. Interesting, huh?
Origins of Natural Soap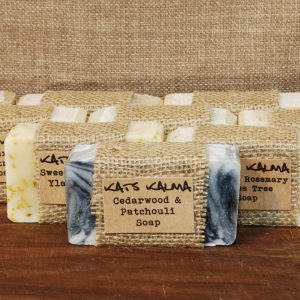 During old times natural soap (what else could it have been?) was mainly made out of animal fats and wood ash (still some soapmakers use tallow for soaping nowadays too, mainly because of its cleansing and foam creating properties), I remember that even my great grandma used to make laundry soap in such way! Won't get too deep into this though, the process isn't all that exciting and nice smelling… You can read a bit more about history of soap making here.
However, there is absolutely no animal fat in our Kats Kalma natural soaps. And all, apart from Gentle Goatmilk and Relaxing Goatmilk soaps are completely vegan too! Goatmilk soaps have, well, goat milk. It is excellent for dry skin as it gives soap extra moisturizing properties on top of the usual coconut-olive-rapeseed oil and shea butter combo we use! And Gentle soap is perfect for extra extra sensi skins as it also contains oatmeal and honey for extra extra goodness!
How to choose a Natural Soap
For natural soaps usually I would recommend Kats Kalma Green Tea Soap, Nettle Soap, Salty Soap or Citrus Soap for morning soaps as essential oils in these have uplifting and energy giving properties; Sweet Orange, Lavender, Chamomile or Relaxing Goatmilk soaps are better for the evening due to calming and soothing qualities of the essential oils in these soaps. Chamomile, Palmarosa & Oatmeal soap is the one I personally prefer for washing my face; I do have a very sensitive skin and chamomile is perfect for calming it down and washing the day off.
The best way to find your favorite natural soap is to try the lot out though 🙂 And remember, your skin will love you for it!
For more information or to get in touch, feel free to visit my contact page.